About the artist.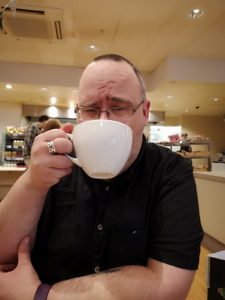 My name is Karl, I am better known as Angel Illustrations.
I have been working in the creative industry since 1999 when I did my first book jacket whilst studying in university, I graduated in 2000 and haven't stopped since.
I have been nominated for many awards and had my work exhibited around the UK with many of my pieces being highly sought after among collectors.
After being well known for my digital painting from 2003 – 2017 I decided to move away from this field to pursue my enjoyment of traditional art media, exploring oil painting, watercolour and finally settling into coloured pencils and later Markers in 2018.
Since then I have started a YouTube channel and have continued to produce fine art portraits, pet portraits and have started to review art supplies.
Angel Illustrations is a labour of love for me, a passion and drive to produce work that I enjoy over those images that are popular.
Materials used:
Caran D'ache Luminance and Museum Aquarelle Pencils
Arteza Everblend Alcohol Markers
Winsor & Newton Brush and Pro Markers
Spectrum Noir Markers
Clairefontaine Papers
Canson Papers.
Derwent Procolour, Lightfast and Coloursoft Pencils
Prismacolor Premier Pencils
Faber Castell Polychromos Pencils
Conté a Paris Pastels
Stabilo CarbOthello Pencils