*** This is an impartial unsponsored review, I was not paid for and did not receive free items for this review ***
Derwent Lightfast Pencils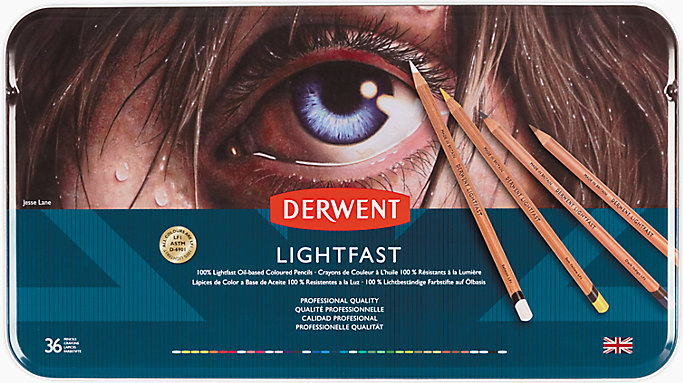 I was intrigued by this range of pencils after they were announced, Derwent and I have had an interesting and varied history, I have loved their watercolour range but they quite often disappointed with a few of their other items as they just did not suit me and the way I worked.
This changed quite quickly after I purchased a set of the Coloursoft pencils and shortly after their Procolour pencils. I loved how they lay down the pigment and their colours were vivid and bright. Naturally as a Caran D'ache Luminance user, I was very interested in their Lightfast range.
I invested in a few select colours through Ken Bromley and put them to the test almost immediately.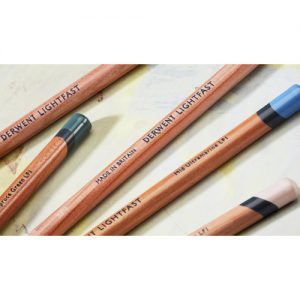 What I first noted was how creamy and smooth they were to lay down, but not so soft as to immediately lose their point after sharpening, I used Strathmore toned tan paper which is quite a smooth, low texture paper.
I used no pastel as a base for this test, preferring to just use the pigmentation of the pencil to really shine.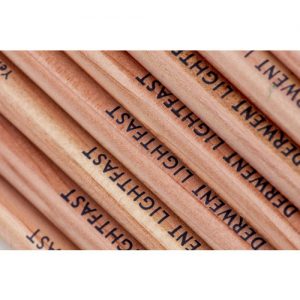 The layering process was really easy; the colour from these pencils are truly magnificent, blending well over one another and allowing for very subtle transitions between different tones very easily. A slight amount of pressure and the colour intensified sharply without burnishing the paper which I really liked, as I am not a fan of burnishing in my own work.
One downside with these pencils is there was not a huge array of colours on the market at the time (which is something that Derwent have moved to rectify in 2019), but luckily I have some Faber Castel Polychromos pencils that are similarly oil-based, so that I could bring in some reds (as at the time there were limited red options available in this range) and I found they blended perfectly with zero issues.
In conclusion:
Derwent Lightfast
Pro:
Lightfast colours, means the image will not fade under museum conditions for 100 years
Oil-based core, retains a sharp point for longer
Superb layering and blending
Works brilliantly well with other oil-based pencils like Polychromos
Works really well on smoother papers without the need for burnishing
Con:
Limited colour range (at time of review), with only 36 colours available.
Personal opinion. I do not like the pencil tins, I find they pop open in transit and I have the same issues with Faber Castel Polychromos Pencils. I always find that I have to fasten them with an elastic band to keep them safe if I am taking them anywhere.
Price. It has to be noted that 36 of these pencils, on the Derwent Website is £110, and although I appreciate that these pencils are premium quality and superb, the high price was a little off-putting and could put others off investing in the range.
My personal opinion – I am eager to see the next wave of colours for this range of pencils, I felt the range on the market was lacking in the reds and hope that the new range will address this. I will invest in more, but possibly more in a customised pallet rather than a full range as the cost is slightly prohibitive for me.